April 1, 2020
Product Updates
Coronavirus clinical coding concepts now available in MediRecords

Matthew Galleto While diet and exercise interventions remain the first and best option to treat obesity, drugs can play an important role in this complex long-term disease, according to new guidelines.
As part of a raft of measures, weight-loss pharmacotherapy may be useful in assisting with initial weight loss, maintaining weight loss or preventing weight regain, the authors of Australia's first algorithm for obesity in primary care (see graphic) said.
Unfortunately, there was a common view that little could be done for people with obesity, the guidelines state, but weight loss in people with obesity had proven medical benefits in reducing the risk of diabetes and other obesity-related complications, they said.
In Australia, only three drugs had been approved for the treatment of obesity.
Phentermine (Duromine, Metermine) is a centrally acting adrenergic agonist that suppresses appetite, orlistat (Xenical) acts by reducing fat absorption, and liraglutide (Saxenda) suppresses appetite and slows gastric emptying.
Medications used off-label for weight loss are topiramate, an anticonvulsant, and combined low-dose phentermine and topiramate.
"In certain circumstances, the recommendation is lower energy diets in combination with pharmacotherapy to try to prevent the hunger that you get with low energy diets," said Sof Andrikopoulos, chief executive of Australian Diabetes Society.
"We know that obesity is a major driver of diabetes, so it's timely to have guidelines on how to manage obesity so that you can then prevent the key health issues associated with it, including type 2 diabetes, cardiovascular disease, certain forms of cancer, sleep apnoea and hypertension," said Mr Andrikopoulos.
Reducing energy intake could take the form of a reduced energy diets (RED), low energy diet (LED), and very low energy diet (VLED).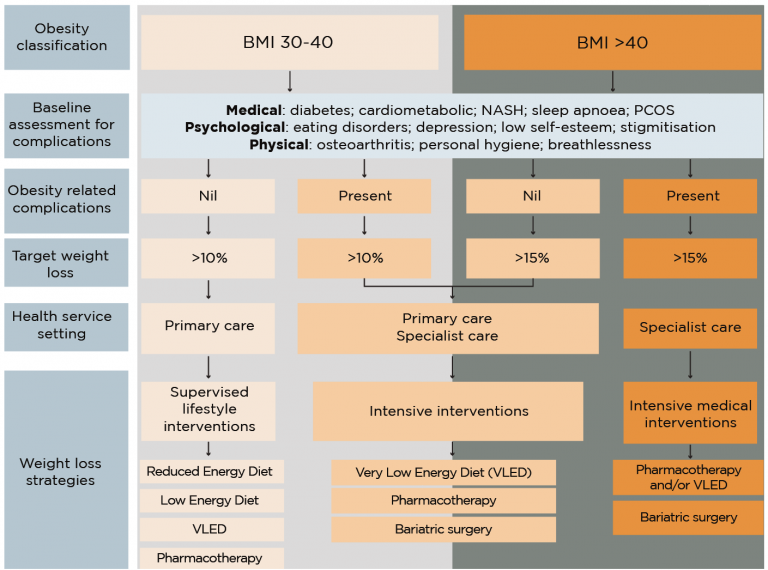 Algorithm for the management of obesity
The aim of VLEDs was to reduce energy intake to less than 3300 kJ/day by substituting meals with formulated meal replacements. They were often recommended for 12 weeks, taking into account contraindications including coronary artery disease, pregnancy and lactation, and severe psychological disturbance, but could be extended for six to 12 months under medical supervision.
"The partial regimen is the most common program recommended and is based on two meal replacements per day (typically breakfast and lunch) and one serve of lean protein, usually for dinner, with vegetables," it said.
If pharmacotherapy and dietary interventions were ineffective, the guidelines also provide specific advice on how and when to escalate to weight-loss surgery.
Bariatric surgery remains the most efficacious weight-loss intervention in individuals with obesity.
NHMRC guidelines suggest bariatric surgery as an option for adults with a BMI over 40, a BMI over 35 and comorbidities that may improve with weight loss or a BMI over 30 for adults who have poorly controlled type 2 diabetes and are at increased cardiovascular risk.
Two in three adults are overweight or obese in Australia, and obesity costs the country $8.65 billion per year in direct and indirect costs.
The Australian Obesity Management Algorithm was developed by the Australian Diabetes Society, the Australian and New Zealand Obesity Society and the Obesity Surgery Society of Australian and New Zealand, partly in response to the launch of the National Diabetes Strategy.
Looking to stay updated with the latest from MediRecords?
Sign up to the newsletter
Latest posts by Matthew Galetto
(see all)