Big updates – Just in time for Christmas!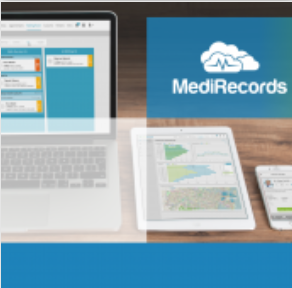 Matthew Galetto
We thought long and hard to find the perfect gift for our MediRecords subscribers this Christmas.  We checked our list twice (our ideas list) for all the requests for improvements and new features, and pulled together a bumper update to bring plenty of Christmas cheer to all clinics in the MediRecords community.
If you'd prefer to watch and listen to the smooth dulcet tones of Michael showcasing the recent enhancements, you can check out a short video here:
Appointments Enhancements
The appointments calendar is a highly visited section in MediRecords, so it's no surprise we receive loads of suggestions on how to make it even more powerful.  Drum roll please…
View calendar by appointment type Do you prefer to manage your appointment calendar by type, instead of status?  Well, now you can in MediRecords!  If you prefer to keep your calendar by appointment type, you can leave it just the way it is.  Make your choice under the new "Colour Palette" option under the Appointment settings for your clinic: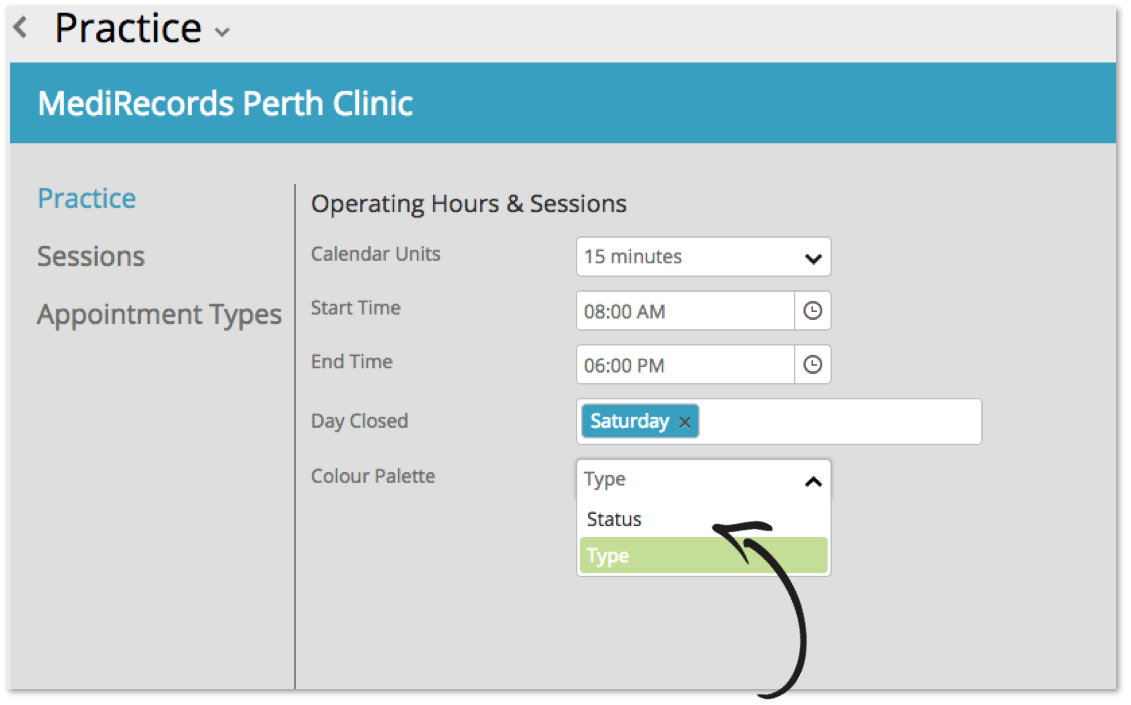 Go to More, Settings, Appointments, then your Clinic to view the calendar by "Appointment Status" or "Appointment Type"
Customised appointment types
Previously, you could only choose from a set list of appointment types in MediRecords. We've recognised that you know what is best for your clinic, so we have given you complete control. Yep, you can go to town with custom appointment types, including name, default time, colour and even choose an icon! The great thing is, these changes aren't just restricted to the MediRecords practice management system, they flow down to the online Appointments booking system and the Patient Mobile App.
Customised appointment sessions
You can now create custom appointment sessions for the entire practice or for individual practitioners. This means you can create custom names, times, and colours for each session. This functionality is particularly handy if you only want to accept particular types of appointments at particular times.
Just in time for the Christmas holidays! We have extended out the holiday capability in MediRecords to now allow holidays for individual providers. In the past, you could only set holidays for the entire practice.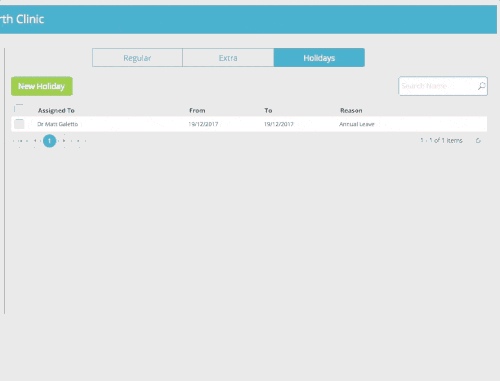 Online Appointments and Patient Mobile App
We've spoken with so many practitioners who see the benefits of offering online appointment booking to patients, but have resisted because they want greater control of what appointment types are booked where.  Well, resist no more – we have solved that problem!
Do you only want to allow patients to book initial consults at specific times with specific practitioners?  How about offering online appointments for customised durations?  It's all possible now in MediRecords!
You will not see this level of real-time, integrated complexity made so simple with any other online booking system in Australia, and you have access to it today.  Thanks Santa!

Find out more about the MediRecords Online Appointment Bookings and check out the interactive demo via this link.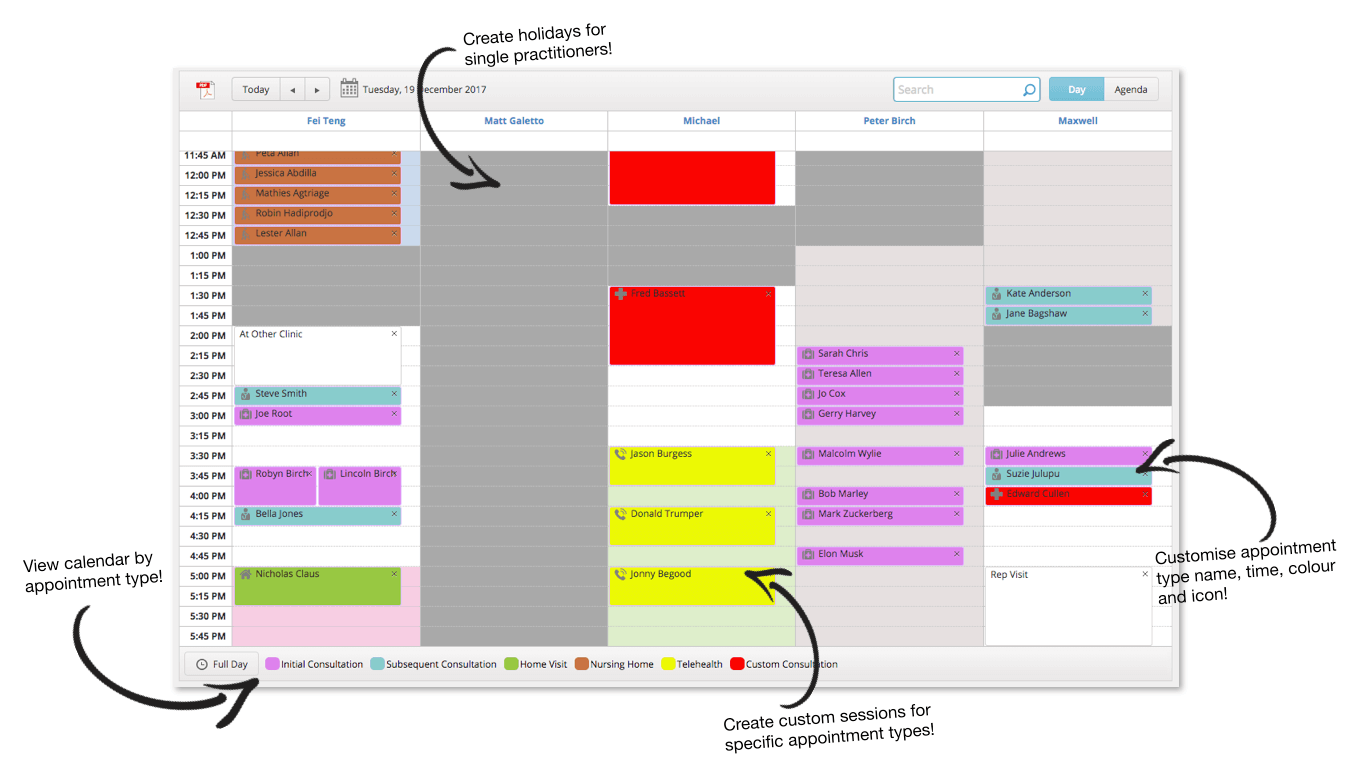 To learn more about how to use all of these new features in the appointment calendar check out all these new knowledgebase articles:
Secure Messaging
You can now send outbound messages via Health Link, and also connect with Medical Objects.
Letter-writer
Did someone say more letter-writer enhancements?!  We've listened carefully to your feedback, and made it much more user-friendly by simplifying certain areas and making some changes behind the scenes. We have also resolved some bugs that caused issues with text not playing as nice as it should.  Oh, and, we have also done some housekeeping within the letter-writer to make it easier to create your own templates.
Even more updates!
New Knowledgebase
Our new knowledge base is up!  With close to 1,000 help articles, this is where to go if you need to know something about MediRecords.  Our shiny new Knowledgebase is easier to navigate, nicer to look at, faster for us to update, plus you can leave comments if you want clarification on particular articles.
If you have a suggestion for a new article, please contact us at support@medirecords.com
You might also notice the help question marks linked to the old knowledge base have been removed throughout MediRecords.  You can access our knowledgebase via support.medirecords.com, or click on the Person icon in MediRecords, then "Help and Support":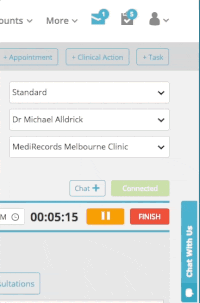 Access the new  Knowledgebase at support.medirecords.com, or via "Help and Support" in MediRecords
Additional Support Packages
Even though MediRecords is intuitive and self-service, sometimes it's just not possible to block out the time from your busy schedule to configure things the way you want.  Never fear! Leave it with us to make things run just the way you need it.  For more information, check out our "Service Packages" at this link.
Status Page
As we continue to invest in monitoring capability and developing at MediRecords, we now have a Status Page: status.medirecords.com.  Here you can monitor any known issues with MediRecords, and also subscribe for technical updates such as planned maintenance.  We encourage everyone to subscribe to the status page by clicking here.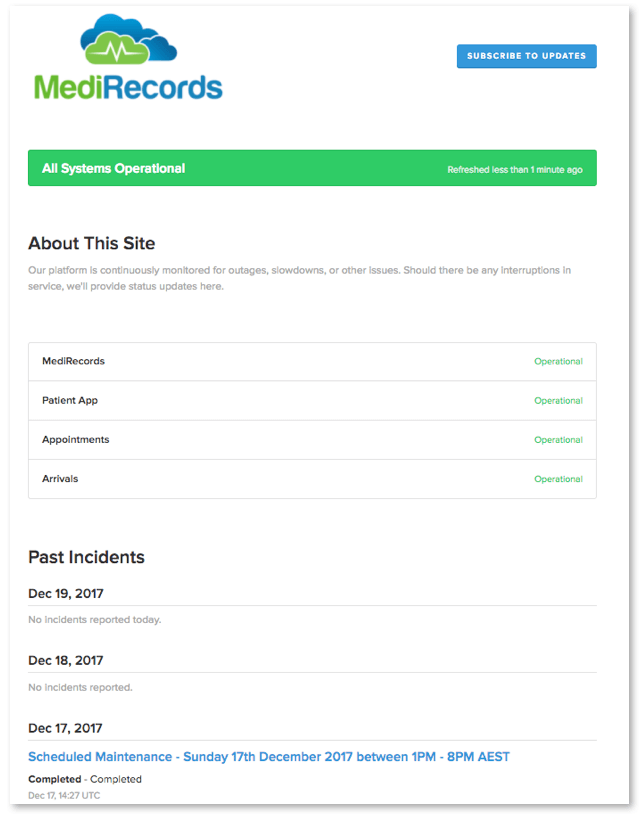 Subscribe for important updates about planned maintenance at status.medirecords.com
The beauty being in the cloud is that all of these updates are now live in MediRecords; you don't need to do anything except dive in and get busy!
Thank to all our valued member of the MediRecords community this year.  We wish you a wonderful Christmas and New Year break.  If you're not using MediRecords yet, you can register for an interactive webinar by contacting support@medireccords.com, or start up a free trial of MediRecords here.
We will be working hard on the business days between Christmas and New Years, so if you do need support during that time please get in touch via chat, email or phone as usual.  Otherwise, we look forward to speaking with you again in 2018!

Matthew Galetto
Looking to stay updated with the latest from MediRecords?
Sign up to the newsletter