MediRecords makeover brings new features for multidisciplinary care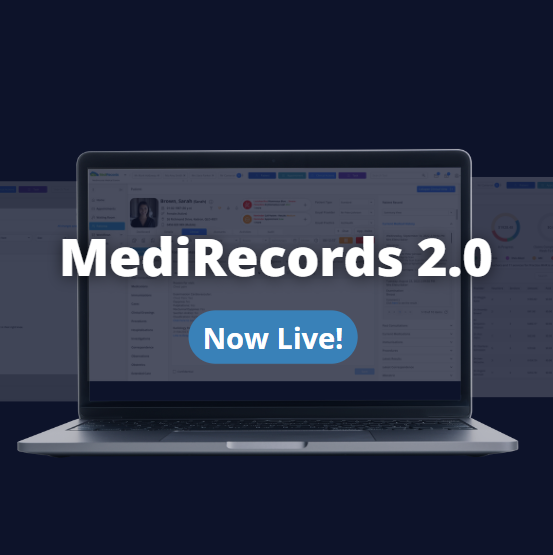 Innovative cloud electronic health record company MediRecords has released a major makeover of its entire platform, including new features supporting team-care.
The MediRecords 2.0 release implements a new user interface designed to optimise screen space, simplify navigation, and increase prominence for alerts and notifications.
Another new feature is a universal communications bar for real time chat between team members from anywhere in MediRecords, with email integration coming soon.
In recognition of healthcare providers' increasingly fragmented work lives, clinicians can now see a calendar view that shows their appointments across multiple clinics.
MediRecords has also introduced multi-factor authentication, which bolsters existing security options, such as Azure Active Directory integration.
A major program of work throughout 2023 will see additional features released, including:
Case Management
Group Appointments
An inpatient module with admissions, charting, handovers, and medication management
Letter writer tool upgrade
Email on demand
Payments integration.
MediRecords founder and Chief Executive Officer Matthew Galetto said providing the flexibility to support multidisciplinary, value-based care was central to the platform redesign.
"The Federal Government's Strengthening Medicare Taskforce pointed to the importance of multidisciplinary care in general practice and allied health. MediRecords is committed to supporting new ways of delivering connected care to people with chronic conditions, wherever they are in Australia."
MediRecords clients include virtual emergency departments, private hospital consulting suites, government agencies, telehealth and virtual care providers, general practitioners, specialists, and multidisciplinary clinics.
Media inquiries
To arrange to speak with Mr. Galetto, or for further information on MediRecords 2.0, please email Tim Pegler or call 0412 485 146.
ABOUT MEDIRECORDS
Established in 2014, Australian digital health technology company MediRecords offers a flexible and scalable cloud-hosted electronic health record and patient management system used across the continuum of Australian healthcare.
MediRecords has significant contracts with Queensland Health and the Department of Defence. In March 2020, MediRecords and healthdirect collaborated to deliver the National Coronavirus Helpline, which was an integral part of the Australian Government's response to the Coronavirus (COVID-19) pandemic.
For further information, visit MediRecords.com
Looking to stay updated with the latest from MediRecords?
Sign up to the newsletter