Head in the cloud: embracing cloud technology for virtual care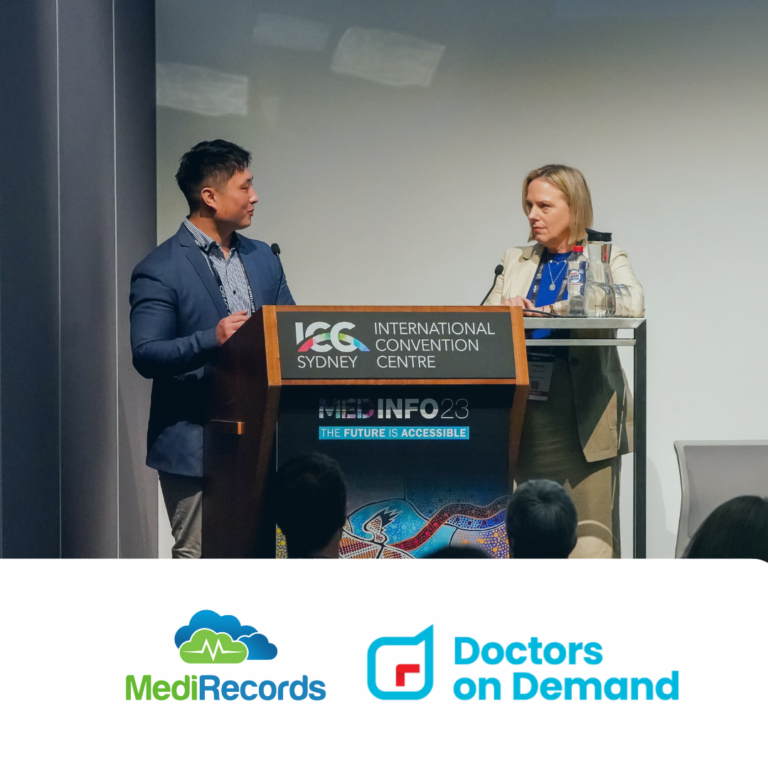 A case study on how MediRecords helped Doctors on Demand embrace cloud technology for virtual care. 
At the international MedInfo conference in Sydney, MediRecords had the pleasure of leading a panel with key client Doctors on Demand. The focus of the session was managing the transition from legacy server-based software to MediRecords' cloud-based technology.
MediRecords Group Manager of Customer Success, Michael Alldrick, and Doctors on Demand Director of Governance and Programs Amanda Yeates, discussed the challenges of server-based software for virtual care businesses, the process of changing to the cloud, and benefits that have flowed from making the move. For those who could not attend, here are some highlights from their conversation.
Doctors on Demand Overview
Michael: Before we delve into the details, let's start with an overview of Doctors on Demand and the services the company provides.
Amanda: Doctors on Demand is a virtual healthcare service provider that connects patients to doctors through video conferencing. We prioritise technology, and our 100% remote workforce allows patients to access healthcare from anywhere. Initially, we faced challenges with our on-premise practice management software, which was retrofitted to meet our needs. However, as we grew, it became clear that a more seamless and scalable solution was required, leading us to explore cloud-based options like MediRecords.
Michael: The limited options for cloud-based technology in 2015 necessitated careful consideration. Can you explain the challenges faced during the transition and the decisions that led to embracing a cloud-based solution?
Amanda: Certainly. We established virtual servers to provide remote desktop access for our doctors, enabling them to access clinical information about patients. However, this setup created a complex workflow, where doctors had to toggle between their own desktops and the virtual server, leading to inefficiencies and scalability issues. We needed a seamless solution where doctors could access patient data anytime with an internet connection. After surveying the market, we chose MediRecords as the cloud-based system that aligned with our requirements.
Data migration and maintaining continuity of care
Michael: Moving from an existing system to a new one while maintaining patient continuity of care is critical. MediRecords placed a lot of emphasis on this and worked hard to ensure complete patient record and appointment history was migrated. How did you feel about this process and was it enough to ensure a smooth transition into a new system?
Amanda: The data migration process was complex due to the extensive amount of data accumulated over the years. We worked closely with MediRecords' data migration team, implementing a phased approach to ensure minimal disruption to our 24/7 service. We started with a few doctors, gradually migrating data in tranches. Our collaboration with MediRecords ensured that the data was accurately represented in the new system. Despite the size of our clinical workforce, we managed to complete the transition within a few weeks, thanks to MediRecords' support and training resources.
Cost savings and streamlined operations through cloud technology
Michael: During your transition to MediRecords' Doctors on Demand achieved substantial cost savings by eliminating the need for a dedicated IT team to manage your previous complex on-premise system. Can you elaborate on how this switch streamlined your operations and led to significant improvements in efficiency?
Amanda: Certainly, Michael. The move to a cloud-based solution with MediRecords was a game-changer for us. As mentioned, we had previously set up virtual servers to provide remote desktop access for our doctors, which introduced complex workflows leading to inefficiencies and scalability issues. With MediRecords' cloud technology, and the ability to access patient data anytime and anywhere, we eliminated the need for a dedicated IT team to manage our previous on-premise infrastructure. The cloud-based solution is more user-friendly and requires minimal maintenance. The API integration also played a crucial role in automating tasks, reducing administrative overhead, and saving on operational costs. Thanks to these cost savings, we could reallocate resources to enhance our virtual care services, expand our offerings, and pursue future growth opportunities, creating a more sustainable and efficient healthcare model for Doctors on Demand.
Harnessing the power of cloud and APIs
Michael: Embracing cloud technology can significantly impact workflows and patient care. How has the integration of MediRecords Connect API service supported your doctors and users, and how does it enhance your current workflow?
Amanda: As a patient-driven service, it was crucial for us to have real-time access to clinical data during consultations. MediRecords facilitated this through API integration, enabling data to seamlessly flow into our practice management software. Doctors now have immediate access to essential patient information during consultations. Additionally, our administrative team can enter doctor schedules in MediRecords, which are promptly reflected on our website. The two-way communication facilitated by APIs streamlines our operations and enhances patient care.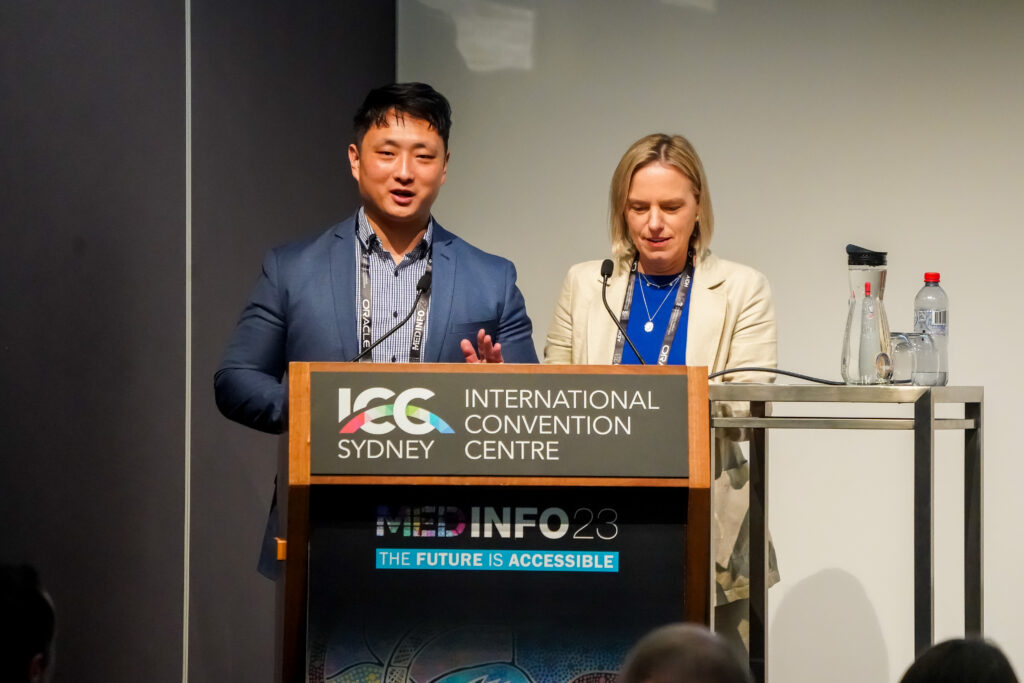 Future growth and advancements
Michael: Doctors on Demand has shown progress in corporate health, private insurance, and other areas. What are Doctors on Demands future plans, and how does the company envision growing its services?
Amanda: Like many health tech companies, we have an ambitious pipeline of work for the coming months and years. In the next financial year, we plan to focus on mental health services, providing virtual primary care and mental health care plans. Additionally, we aim to strengthen our partnerships with corporate entities, leveraging the advantages offered by MediRecords' 2.0 interface. This new interface will enhance patient communication capabilities, including email and demand management.
Michael: Exciting times ahead! Lastly, based on Doctors on Demand's experience and decision-making process, what advice would you give to organisations considering new technologies to future-proof their businesses?
Amanda: Making the transition to new technologies can be challenging, but it's crucial for scalability and growth. As an organisation, we were determined to embrace change. Education, support, and collaboration were key in successfully navigating this journey. MediRecords' training resources, webinars, and live chat support played a significant role. Despite the initial resistance to change, we managed to onboard our large clinical workforce within weeks. So, I would encourage organisations to thoroughly assess their needs, seek support, and embrace new technologies for long-term success.
The collaboration between Doctors on Demand and MediRecords highlights the positive impact of cloud technology on virtual healthcare services. By migrating from a legacy server-based solution to MediRecords' cloud-based system, Doctors on Demand overcame challenges, improved workflows, reduced costs, streamlined operations and enhanced patient care. The seamless data migration, ongoing support, and future growth plans demonstrate the successful transformation enabled by embracing cloud technology for virtual care. 
Read more about Doctors on Demand on their website.  
Looking to stay updated with the latest from MediRecords?
Sign up to the newsletter