The Clinician Interviews
Matthew Galetto, CEO at MediRecords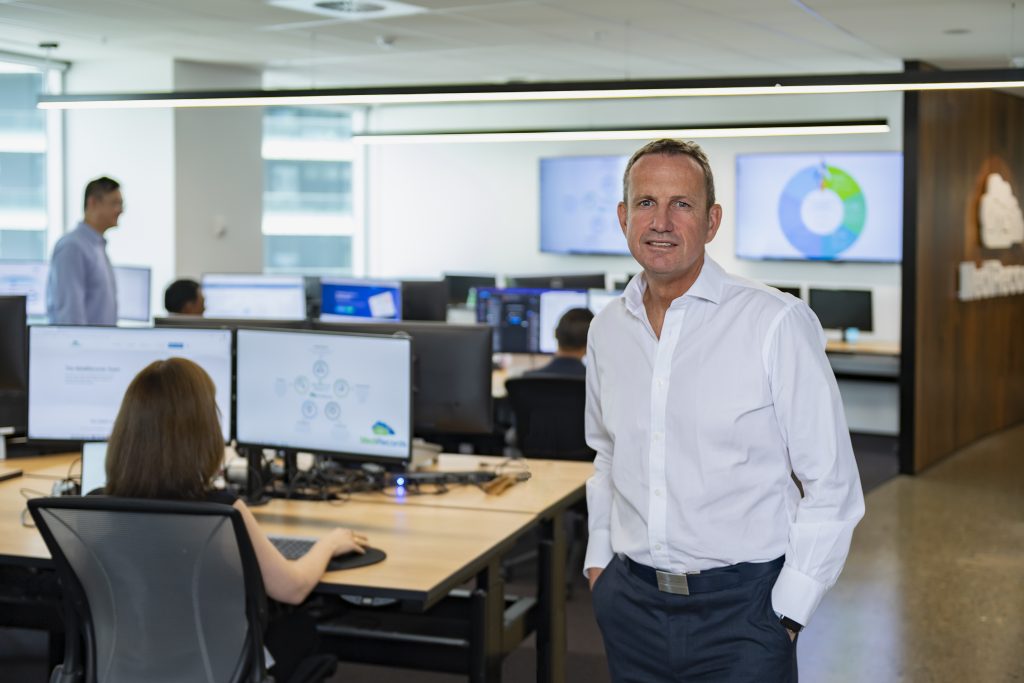 This article was originally created and shared via The Clinician. The original article can be found here.
The Clinician sat down with Matthew Galetto (founder and CEO, MediRecords) for a conversation on interoperability, adoption issues for regulatory standards, and our recent collaboration on a FHIR-based integration.
Thanks for being here, Matt. Could you describe your background and maybe some current or upcoming initiatives you're particularly excited for?
Matthew Galetto: I founded MediRecords in 2014, but my background in health technology spans over 20 years. I started my health tech journey working in primary care, working with a health technology company consolidating GP clinical systems through acquisition during the dotcom boom. In fact, my job was to integrate a dozen or so different applications into a single consolidated platform—I was a lead technical architect in that endeavour.
I worked there for a few years and then set up a company called AsteRx, which was a data analytics and clinical data business that collated information from multiple GP systems and provided insights and reports back to corporate practice groups and industry generally.
How do you define and approach interoperability, both within MediRecords and in the larger context?
Matthew Galetto: Interoperability is information exchanging freely across different systems. There's the technical implementation of interoperability, which is the systems themselves enabling the transfer of information across technology boundaries and platforms and in different healthcare settings, and there are also the regulation and legal structures that support information exchanges.
In the context of MediRecords, the interoperability piece is making sure that the system that we've developed in the platform that underpins our products and services can connect to the broader Australian health ecosystem. To do that, it needs to connect to different players in the market that provide certain services, so it might be diagnostic services, My Health Record, Medicaid-claiming type services, payments and those sorts of things.
So, I would describe the interoperability piece as that free-flowing information across systems.
What do digital health systems and organizations need to be doing to ensure that's possible: to ensure information can be easily shared and used by other systems? What are the key barriers, or where do you see some organizations falling short?
Matthew Galetto: In the Australian market we have a bunch of these legacy technology providers, both in the GP/specialist arena and even in the hospital market. Systems are not geared for supporting the latest standards of interoperability—things like FHIR and SNOMED terminology services to underpin the ontology mapping of information across systems.
There's been insufficient adoption of those standards here in the Australian market, and no incentives provided by government or industry to adopt those technologies, partly because so many of the existing market players still operate on old technology platforms.
In our recent collaboration, a bidirectional FHIR-based integration was able to be established between MediRecords and ZEDOC within a matter of a few days. From your perspective, what was the process like and what would you identify as the key success factors?
Matthew Galetto: Sure, that was a particular problem case that we needed to solve. ZEDOC was providing a PREMs and PROMs solution patient engagement platform and MediRecords was the underpinning electronic health record and system of record; we don't have the same level of patient engagement capability that ZEDOC offers.
This particular customer was looking at integrating a patient-engaging PREMs and PROMs platform as well as MediRecords capability. To achieve that, as part of a proof of concept delivered in that very short timeframe you described, we were able to connect MediRecords in a bidirectional way to ZEDOC, with MediRecords providing the source of truth for the patient record.
Very quickly, were able to put into the clinical workflow a feeder of the patient record through to the ZEDOC platform enrolling that patient in a particular program. ZEDCO would then handle the patient engagement capability.
Information that was captured as part of those PREMs and PROMs would then make its way back into MediRecords' platform as long-form patient summaries and patient-centered observation data, using remote patient monitoring devices. This information would also be added to the longitudinal health report of the patient.
That was achieved through applying those FHIR open standards capability. And given that there was a common language and common understanding and protocols we were able to achieve them in pretty quick time.
What role do standards like HL7 or FHIR play in enabling PMS like MediRecords to tightly integrate with solutions like ZEDOC?
Matthew Galetto: They're vitally important. I've just come back from the US, having attended the HIMSS conference in Orlando. In the US in 2016 the government initiated the 21st Century CURES Act, which essentially removed barriers to the flow of information across systems so the patient could access their clinical record, regardless of where they travelled or the health care facility that they attended.
That regulation mandated FHIR as the protocol for exchanging information, and also supporting HL7 (version 2). But essentially, it was saying OK, these systems need to talk to each other, we need to define some common protocols and terminology for that information to share, so we're going to regulate this. And what we're seeing in the US is that the innovation that's come from that initiative has resulted in interoperability across different systems.
We actually saw live demonstrations of some examples of patient records being shared, across continuums of care and across competitors, using HL7 and FHIR combinations. It was shared from primary care or ambulatory care, through to secondary care, through to tertiary care, and then even to some patient engagement platforms as well.
Those standards are critical in order for information to exchange with the known set of terminology, and also for defining how those systems can communicate.
In fact, we're currently undertaking an integration with a hospital group in Victoria using a combination of HL7 and FHIR protocols. Those protocols are well documented, supported by the international organizations like HL7 and the FHIR community, so we have a clear understanding of what those standards and protocols are. This means we're able to build confidently, understanding the protocols in place and that they're reliable and safe to implement.
And what is the other side of that coin—what are the key barriers to adoption of those standards by the industry?
Matthew Galetto: If we look at FHIR, there are a couple of barriers. One is actually accessing resources and skills that have that knowledge, particularly in Australia. That's a problem because of poor adoption. And then the other barrier is really a technical barrier.
FHIR is a web-based protocol—it's designed for systems that are built and implemented in the cloud. The Australian market isn't really cloud-ready at the moment, with 95-plus odd percent of the vendors operating in the old legacy client technology.
But the main barrier would really be the regulation. There's just no government regulation to say, these are the standards that we need to implement, we want the industry to shift and pivot and implement these particular standards, and give us a roadmap to doing so. The regulatory barriers are significant in maintaining the status quo and not encouraging the adoption of these new standards.
With an eye to the future, can you give us your thoughts about the ability to capture data from patients at home and then bring that data into the system, what could that make possible?
Matthew Galetto: Well, if all of the systems are talking the same language and adopting the same protocols, regardless of whether they're patient-facing or clinical-facing, then you have a clear understanding of the context of the information shared across those systems.
In terms of the Australian market, one of the things I noticed in the US is the challenges identifying a patient across states and/or healthcare settings. They don't have the concept of a master patient index as such.
In Australia, we're blessed with some of the initiatives that the ADHA have implemented, like My Health Record. These unique identifiers are tagged not only to the patient, but to the clinician and also to the practice.
We already have some of the foundations in place in Australia to identify the various participants in the healthcare system: patient, provider, practice, and location. If we're talking about information flows from the patient to the clinician right through to the tertiary system, we do have those identifiers.
If we can find a way to then implement some of these standards, FHIR in particular, and identify the resources that need to be supported and implemented across these different settings, including the patient engagement setting, then I'm very encouraged about where we can go, provided that regulation comes into play.
What's coming next as far as interoperability? What ought industry be considering in order to stay ahead of the game?
Matthew Galetto: Essentially, build those connected platforms and open up the systems. Be less protective of your information because it's not your information—understand I'm talking as a vendor at the moment. Vendors have a tendency to lock the data in and feel that's good for business when, in fact, it's not.
This is the journey that MediRecords is going on—we will open up our platform to expose APIs. MediRecords' platform will open up to and encourage third parties. Of course, through a curated process verifying their use case, but we're opening up that system. Allowing third parties to connect and exchange and share information from the platform is the way to go.
So I think it's a question of breaking down the technical barriers, but also the business models that are out there.
If you actually look at some of the vendors that are operating in the Australian market, understanding that they want to protect not only the customer list, but also the information that sits in those systems and maintain those silos of information.
If we can break that down, and also the business models that support those old siloed systems, then I'm pretty confident. If multiple vendors, like MediRecords and The Clinician, are prepared to open up those systems and support the exchange of information across those platforms, then there's going to be a net benefit to the healthcare sector generally, but particularly to the patient, as well as a pivot from a clinician-focused to a patient-focused or patient-centric model.
In the scenario you've just described, would that diminish the reliance on regulation, or is there a way that industry could make this happen—to a point—without waiting for regulation to come in?
Matthew Galetto: My personal view is that we need regulation. And my personal view is that we need the government setting the example on some of the infrastructure and rails that support the exchange.
I'll give you an example: there's a tender out now for the prescription exchange which is currently managed by two private operators. They've done a wonderful job in the last 10 years implementing a particular framework to support electronic prescribing.
The government have now issued a new tender, and they're looking to undercut the commercial model of those existing vendors by maybe 20%. The original value of that contract will disappear, and all the business models out there supporting the electronic prescribing with money flowing through to the PMS vendors and to the dispensary systems.
That's an example of some infrastructure that I think could be owned and operated by the government, which seems odd, but I think it's something that might benefit the ecosystem just generally. One other area that's a bit of a problem in Australia is around the exchange of information messaging between pathology companies, specialist to GPs and vice versa. These are private enterprises and I'll give you an example of one of the challenges…
There are three particular brokers in the market that provide services supporting the exchange of information across systems. So that's the pathology companies, radiology and diagnostic reports, and requests and specialist letters and referrals and those sorts of things.
The ADHA formed a common directory service a couple of years ago and all the brokers were encouraged to upload their contacts list to this new directory service implemented by ADHA. None of them uploaded because they were afraid of sharing their customer lists with their competitors.
In that example you have a bit of innovation around FHIR, implementing and documenting it, and then in the end the private sector didn't conform and participate.
I think there's an example where some regulation needs to come in and mandate a few things. I don't think we're going to get the change without the regulation.
Considering the digital health landscape through the lens of interoperability, is there an element of the current conversation that you think is not getting enough attention, or is given short shrift? In other words, what are you thinking about that we all should be thinking about?
Matthew Galetto: For any health technology company hosting information, security will be what keeps them up at night. That's certainly the case for us: making sure our system is secure.
And as you open up your systems through the interoperability play, including these new standards, security has to be absolutely front of mind, because you are actually opening up your systems to the market generally.
Some context for the Australian market: we don't actually have any security standards that are like a HIPAA compliance standard. So going back to one of your previous questions around some of the barriers and the regulation, we definitely need to see an uplift in the security protocols and accreditation services to support the interoperability piece, and the opening up these systems using FHIR and so forth.
Learn more about The Clinician and MediRecords' recent FHIR-based collaboration in this case study here! 
This article was originally created and shared via The Clinician. The original article can be found here.
Looking to stay updated with the latest from MediRecords?
Sign up to the newsletter